NFI's Zeno Geradts unanimously voted President-elect of the AAFS
During the last conference of the American Academy of Forensic Sciences (AAFS) – from February 19 to 24, 2018 in Seattle - Professor Zeno Geradts was unanimously voted as President-Elect. Professor Gerardts is a Senior Forensic Scientist at the Netherlands Forensic Institute (NFI) and specialises in forensic image processing and biometrics and forensic big data analysis. He will take office at the conference in Baltimore in 2019 and become Past President when the 2020 conference in Anaheim closes.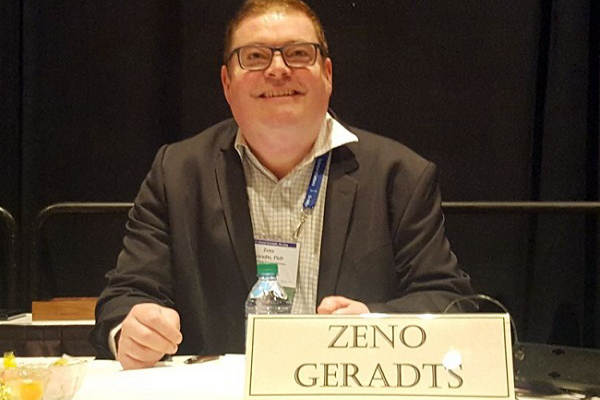 As President-Elect, Professor Geradts will act as the AAFS's official spokesperson, together with the current serving President. The theme of the 2020 AAFS conference in Anaheim will be Crossing Borders, inspired partly by Amsterdam's past bid to host the International Association of Forensic Sciences (IAFS) conference in 2020.
In the framework of the AAFS, Professor Geradts is also organising an International Educational Outreach to Brazil (Brasília and São Paolo). The programme will include a working visit to the AAFS counterpart in Brazil and the InterFORENSICS conference. In addition, there will likely be a meeting with the Brazilian government to discuss US and European ideas for strengthening forensic science in South America.
AAFS
Since 1948, the American Academy of Forensic Sciences (AAFS) has served a distinguished and diverse membership. It has more than 6,600 members, divided into 11 sections spanning the forensic enterprise. The Academy's members include physicians, attorneys, dentists, toxicologists, anthropologists, document examiners, digital evidence experts, psychiatrists, physicists, engineers, criminalists, educators and others. Representing all 50 states of the United States, Canada and 70 other countries worldwide, they actively practise forensic science and, in many cases, also teach and conduct research in the field.
Each section provides opportunities for professional development, personal contacts, awards and recognition. Many sections publish periodic newsletters and mailings which keep their members abreast of activities and developments in their field.
As a professional society dedicated to the application of science to the law, the AAFS is committed to the promotion of education and the elevation of accuracy, precision and specificity in the forensic sciences. It does so via the Journal of Forensic Sciences (its internationally recognised scientific journal), newsletters, its annual scientific meeting, webinars and other meetings, and initiating actions and reactions to various issues of concern.
The AAFS provides job opportunity listings, expert witness referrals and scientific reference studies for its members and affiliates. As the world's most prestigious forensic science organisation, the AAFS represents its membership to the public and serves as the focal point for public information concerning the forensic science profession.
The Academy's annual scientific meeting is held in February, giving its members the opportunity to present over 800 scientific papers and attend breakfast seminars, workshops, and other special events. The annual scientific meeting brings together professionals who present the most current information, research, and updates in this expanding field.
More information: www.aafs.org